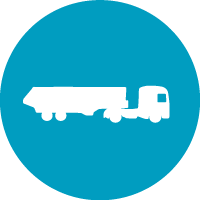 There's Traditional Fleet Management Firms. Then There's Us!
We're not going to hide it from you. There are other companies offering fleet management services. We're sure they're all fine companies with fine products. But they're not us. They offer GPS trackers. We offer GPS trackers with GPS backup, which keeps ours working even when GPS is inaccessible. As a matter of fact, we provide 99.6% reliability worldwide, making us tougher than tough when it comes to trackers.
21st Century Real Time Tracking
Our Fleet Management Solution GPSTRAQER is designed for professional organizations that use or used GPS tracking software before but are or were not happy with it. GPSTRAQER is highly robust and very reliable – 99.6% Service Availability – unheard of with typical GPS platforms, and our M2M Sims are virtually redundant, being able to access all available networks. Our solution is deployed worldwide and is especially useful in rural and remote areas across Africa and Middle East.
Why Is Our Solution Special?
Our Fleet Management solution consists of unique components combined into a unique and highly functional product. We have M2M IP Data Plans. We have Global Data Plans providing realtime GPS tracking by transmitting vehicle position every 5 seconds!
GPSTRAQER lets you monitor your vehicles via the web, Android and iOS apps. You can also interact bidirectionally with the vehicles. For example, you can receive geofencing alerts when drivers stray outside defined boundaries. Or you can transmit a command that disables the ignition when a vehicle is being stolen.
Our hardware is designed around our M2M Sims and surfaces all of its advanced features, such as GPS Backup, Flat Rate Global Roaming and our proprietary UGC8 protocol.
No Brinks Truck Needed!
Even if you operate a fleet of armored trucks delivering cash to banks, you'll never find yourself diverting one to pay off hefty fleet management bills. Our service is prepaid, requires no contracts, imposes no obligations, and the price of our hardware is marvelously competitive starting at just $85 per unit!
Fleet Management For Any Industry!
M2M Global Solutions is useful for any industry, especially for Transport & Logistics. There are no roaming charges and no fear of satellite unavailability. Any vehicle fleet will benefit from real time tracking.
Tax Compliance!
Let's face it. Tax compliance is an unavoidable fact endured by firms located almost anywhere. But our Fleet Management solution eases the pain. It includes a powerful reporting engine whose reports are certified for the IRS in both the UK and the US as well as all tax authorities in the EU. Taxes are considered one of the the two certainties of life. We can't eliminate them, but we can certainly make them easier to bear.
Pros
Fleet Management makes sense for our company. We have dozens of pieces of heavy equipment and tractor trailers to haul them, so we need to know where everything is at all times.

The Verdict:
9/10

We used another firm's GPS tracker in the past. M2M's is far superior.
Pros
Predictable costs due to crossborder roaming and worldwide flat rates. Very helpful.

The Verdict:
10/10

The fleet management solution meets our needs in all areas and exceeds them in quite a few. Nicely done, M2M!