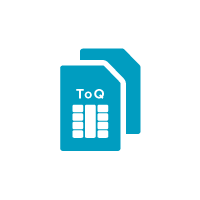 ToQ Sim – Global Voice Roaming
ToQsim community members can call each other for a few cents per call or for free even while traveling abroad. Our stellar international voice roaming service offers high quality voice calls at a fraction of the fee charged by classic providers. Need data and message services? You'll get them on our plan, and with exceptional pricing, too.
ToQsim community members can call each other for a few cents per call or for free even while traveling abroad!

Voice For Less, Even Internationally!
ToQsim is a voice callback service built on the latest in mobile technology. When you dial an international number, ToQsim picks up and calls you back with a connection to the number you dialed. The call travels entirely through our partnering networks, creating huge savings and achieving excellent sound quality no matter where you are.
What Else? Incoming Calls In 135 Countries For Free!
Receive incoming calls on your ToQsim equipped phone in more than 135 countries. Do you live in Africa or plan to travel there? Incoming phone calls are free in Angola, Benin, Central African Republic and many other African nations. Do your holiday plans involve Argentina, Barbados or Costa Rica? We offer free inbound calling in those and a number of other countries in the Americas.
Enjoy Borderless Voice Roaming!
As a telecommunications service provider, we are uniquely positioned to offer exceptional pricing for services based on our technology. Our SIM card can save you as much as 85% on global voice roaming charges. Our competitors include some of the largest telecommunications firms in the world, and they often charge correspondingly large fees. Fortunately for you, we don't.
Free Incoming Text Messages Globally!
Sending text messages costs just €0.11 within the European Union and just €0.35 in most other countries. Receiving text messages is free in all countries. With ToQsim, there's no longer a cost-based excuse for not keeping in touch with your extended circle of family and friends. Your mother will be very glad to hear that.
Best Of All, No Surprises On Pricing!
Our service plan is prepaid. You will never be hit with unexpected or unexplained roaming charges or hidden service fees. Your usage is charged against your prepaid account balance and when you run out, it's easy to add more. The best surprise with ToQsim is that there is no surprise on pricing.
Pros
If you want great pricing on voice services from abroad to Mozambique, ToQsim is the smartest investment you'll ever make.

The Verdict:
9.8/10

M2M Global Solutions provides world-quality roaming voice service at exceptional rates. Highly recommended for everybody.
Pros
M2M's low prices for global voice roaming make cellular service available on any budget.

The Verdict:
10/10

The prepaid pricing is tremendous and the quality of the calls is superb. And free inbound SMS lets me keep in touch with my extended family.
About Locked Cellphones
If you purchased your mobile phone from a traditional mobile provider as part of a bundle, the ToQsim card probably won't work with it out of the box.
You will need an unlocked phone to use ToQsim. Many bundled phones can be unlocked by your service provider. Ask your carrier if that's true for them.